What is the Cost of Gastric Band Surgery with Top Hospitals and Top Surgeons in India?
The average cost of the Gastric Band Surgery is very high in western countries.
India is known worldwide for its advanced medical facilities and promising technology for Gastric Band Surgery. Many of the best hospitals for Gastric Band Surgery can be found in India.
Gastric Band Surgery cost in India is much less when compared to any other countries. Also the cost of Gastric Band Surgery in India is substantially lower than other developed countries of the world.
Various deciding factors could determine the price of Gastric Band in India. These can be broadly classified as Hospital, Medical Team or Patient Dependent factors.
Hospital Factors
Type of the hospital (Government/Trust/Private).
Use of insurance, type of insurance or self paid.
Accreditation of the facility
Reputation and brand value of the hospital.
Medical Team Factors
Technology / Approach Used
Surgery Type
Type of Anesthesia or Sedation
Qualification / Expertise of the specialist
Extent of the surgery needed
Patient Factors
Patient's diagnosis
Patient's general health
Room Category selected by the patient
Other treatment required by the patient in conjunction
The LIST of AVERAGE COST of the Gastric Band Surgery across TOP 15 cities in India in Indian Rupee (INR) is as follows –
| City | Lowest Cost | Average Cost | Highest Cost |
| --- | --- | --- | --- |
| New Delhi | 2,80,000 | 3,35,000 | 4,15,000 |
| Mumbai | 3,00,000 | 3,50,000 | 4,25,000 |
| Chennai | 3,25,000 | 3,75,000 | 4,50,000 |
| Bangalore | 3,15,000 | 3,60,000 | 4,30,000 |
| Hyderabad | 3,30,000 | 3,90,000 | 4,65,000 |
| Ahmedabad | 3,50,000 | 4,00,000 | 4,75,000 |
| Nagpur | 2,75,000 | 3,25,000 | 4,00,000 |
| Pune | 3,00,000 | 3,50,000 | 4,25,000 |
| Gurgoan / Gurugram | 2,80,000 | 3,35,000 | 4,15,000 |
| Kolkata | 3,50,000 | 4,00,000 | 4,75,000 |
| Chandigarh | 3,25,000 | 3,75,000 | 4,50,000 |
| Jaipur | 3,30,000 | 3,90,000 | 4,65,000 |
| Noida | 2,80,000 | 3,35,000 | 4,15,000 |
| Kerala | 3,50,000 | 4,00,000 | 4,75,000 |
| Goa | 3,30,000 | 3,90,000 | 4,65,000 |
Contact Us for a FREE No Obligation Quote & Opinion for Gastric Band in India
Our Hospitals Network and Surgery Group are available in 15 cities of India for our patients to access. Kindly fill up the form for a free opinion from our expert team. We shall get you a Free, No Obligation Opinion from India's best Surgeons and best Hospitals in India. NO CHARGES LEVIED
Special ALL SERVICES INCLUSIVE Packages available for INTERNATIONAL PATIENTS
Gastric band Overview (what is gastric band)
This is a procedure undertaken to lose weight. It is strongly suggested that you undertake this surgery only if you have had a detailed discussion with your doctor over it. This surgery requires the surgeon to make certain incisions on the stomach and turn it into a pouch that can only take an ounce of food at one time. This is done by implanting a band around it that may be adjusted later on.
This is usually suggested by doctors when the patient is unable to lose any weight by alternative and simpler methods and it is impacting his health is a very negative way.
How to get started
Planning your medical trip to India is a very simple process with Cosmetic and Obesity Surgery Hospital India
You just need to fill in our enquiry form and one of our executives will contact you soon.
+91-9373055368 Call us at the given contact number for any assistance.
Complete information regarding surgery is provided on our website.
How do I know if I am a good candidate for Gastric band Procedure?
You will be an ideal candidate for this surgery if your BMI (Body Mass Index) exceeds 40 or is above 35, but contrary, you are suffering from a disease or a condition that utterly requires you to cut down on a few kilograms, for instance, high blood pressure, diabetes, etc.
Apart from the above, if you wish to lose some weight and revise your lifestyle in order to be healthier and fitter, and are fit for this surgery, you may undergo it.








Gastric band Procedure & Recovery & Effectiveness
The preparation for the surgery begins about one to two weeks prior to the surgery wherein you will be asked to keep your calorie and carbohydrate intake substantially low. The patient is first given some anesthesia before the operation that begins with the surgeon making a few cuts into the stomach. This is done to accommodate an adjustable band into the belly. The effect of this band once squeezed is that it will ensure that your food intake is limited to about an ounce for that's all your stomach will be able to take.
Another device is also placed below the skin that is connected to the silicon back with a help of a plastic tube. To change or adjust the size of the band from time to time, saline (sterile salt water) is accordingly removed or injected into the skin. While injecting saline water will tighten the band, removing it will loosen it.
Why Opting Gastric band is necessary?
This surgery is a great option that is available to the patients who are fit to undergo this procedure. It is most effective and required when losing weight is an absolute necessity due to an illness or ailment.
Our Treated Patient Experience – Ms. Julie Rene from Nigeria came to India for her Low Cost Gastric Band Surgery in India.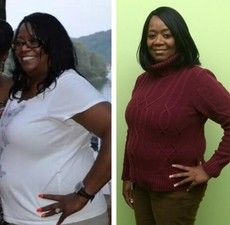 There are simply no words to explain how grateful I am to the cosmetic and obesity surgery group in India for providing excellence, gentle and skilled services while I was undergoing the gastric band surgery by one of the specialists from this group. I and my family are extremely thrilled with the outstanding results. Of course to mention that I have been receiving many compliments since the results of the surgery have become visible. Thanks once again!
Why to choose an Indian Hospital for your Gastric band?
The Gastric band in India reviews are written by previous customers in India shows that this is quite often and normally performed in India. Further, this surgery is much more affordable in India when compared to other countries with similar procedures and quality of services. Last but not the least, the ultimate Free Consultation Gastric band in India to the patients by some of the hospitals is remarkable.
Listen to the Voices of Our Happy Patients
Before and After


If you are really seeking for Gastric Band, kindly fill up the form for a free consultation by our surgeons. You will be provided with thorough analysis and suggestions regarding the Gastric Band you are seeking for.
How many patients underwent Gastric Band Surgery in India in the last 5 years?
In recent years, India has emerged as a medical hub for patients looking for affordable, accessible and efficient low cost Gastric Band Surgery.
An average increase of 15 to 20 percent annually has been observed in the number of patients in the last 5 years.
The Indian Gastric Band Surgery hospitals deliver advanced health care and highest quality services backed by elaborate infrastructure and lower treatment cost.
Since all the staff in hospitals, including nurses, physiotherapists, doctors, surgeons are well-trained in English speaking, patients from any part of the world coming to India feel comfortable in communicating their problems without any issues.
Here are the approximate figures of the patients underwent Gastric Band in the last 5 years in India –
Are you looking for affordable cost of Gastric Band Surgery in Top Hospitals of India?
Please consult us to Get free quotes, opinions from Top Hospitals and Best Surgeons of India for Gastric Band Surgery at Affordable Prices.
Special ALL SERVICES INCLUSIVE Packages available for INTERNATIONAL PATIENTS
FAQ's
Why should a patient choose Cosmetic and Obesity Surgery Hospital India?
Cosmetic and Obesity Surgery Hospital India offers the highest quality medical services and has world class facilities that boast the economical pricing, top notch hospitals and robust infrastructures. Our hospital has connections with the best cosmetic and obesity surgery hospitals at Delhi, Mumbai, Chennai, Hyderabad and other places in India. Here we have associations with well trained, qualified and experienced cosmetic and obesity surgeons who understand the needs of the patients well. They provide cosmetic and obesity treatment to their patients at a low cost. Many medical tourists who have visited India to undergo different procedures for both the cosmetic and obesity surgery are highly impressed with the commitment to quality medical services and cheaper pricing.
How much weight will I lose?
Weight loss results following gastric band surgery vary. The national average weight loss is 50% of the excess body weight over an 18-24 month period.
Will I lose weight quickly?
Weight loss following placement of a gastric band continues for 18-24 months and is generally slower than other bariatric procedures. Band fills will be undertaken at stages following placement to ensure the band is adjusted to meet individual patient needs.
How long will I have to stay in hospital after surgery?
You are normally expected to stay overnight for this type of procedure, however, if it is clinically necessary for you to stay in longer, then this will be explained to you by our clinical team.
How long will I have to take off work?
Most people are able to return to work after 2-3 weeks depending on the kind of work you do. If you work in heavy manual labour, you may require a little longer.
Will I have to take any medication after surgery?
There is no evidence to suggest that nutritional supplements are required, but many patients choose to take a good quality multivitamin for the first few weeks after surgery. If you are eating a small, varied and healthy diet you should remain nutritionally stable in the long term.
Should I exercise after surgery?
You will be encouraged to exercise following surgery, gradually increasing your activity over two weeks. Exercise is an important part of your recovery – it will help relieve the symptoms of 'trapped wind', reduce the risk of blood clots in the legs (DVT), help increase weight loss by increasing metabolism and help reduce blood pressure and cholesterol levels. Exercise will also help support your joints and improve your final physique. Exercise such as walking in the first two weeks can be increased gradually until you are exercising for 30 minutes three or four times a week.
How long before I can drive after surgery?
You should not drive for ten days post operatively (DVLA policy). You can drive after that time if you can safely carry out an emergency stop. Ask your insurance company for advice if you have any doubts.
How will my eating habits change after surgery?
The aim of any weight loss treatment is to help individuals change eating habits and lifestyle to improve health and quality of life in the long-term. It is important to take this opportunity to make changes, as reverting to a grazing or poor quality food choices may result in regaining weight or less successful weight loss.
Will my current medical problems/conditions affect my weight loss surgery?
Many people with pre-existing medical conditions undergo treatment/surgery. Some medical conditions associated with increased body weight, such as type 2 diabetes, obstructive sleep apnoea, hyperlipidaemia and high blood pressure, can improve following weight loss and therefore treatment/surgery can help. It is vital that you inform the specialist nurse and your doctors of any investigations or treatments you are receiving to ensure all tests and investigations are completed before proceeding as this will best ensure your safety and reduce the risks associated with surgery.
Will my band fill hurt?
A 'fill' is carried out by inserting a needle through your skin into the port which is placed in your upper abdomen close to your rib cage. It can be uncomfortable, but should not be painful.
What if I am still very hungry after surgery?
The placement of the band puts pressure on the nerves at the top of your stomach, which sends signals to your brain to indicate that your stomach is full. Some people do experience hunger until the band is fully adjusted. The band is an aid to weight reduction and should be used as one of a number of approaches to weight loss and maintaining a small, healthy and varied diet will give the best results.
What can I eat after surgery?
You will liaise very closely with our in house dietetics team who will give you a specific diet plan tailored to your individual needs after your surgery.
Will I have big scars?
You will have five very small scars equally spaced across your upper abdomen. The skin is closed with either soluble stitches or surgical glue. Wounds are generally covered for one week following which dressings can be taken off. Wounds should be healed within two to three weeks and scars fade over time.
Will I be able to drink alcohol after surgery?
We would suggest that alcohol is avoided for the first six to eight weeks of the 'weaning' period immediately following your surgery. Many people enjoy an alcoholic beverage and there is no reason why it should be completely avoided, but alcohol should be consumed in moderation. It is recommended that women should have no more than 14 units of alcohol per week, and men to have no more than 21 units of alcohol per week. However, alcohol is high in calories and therefore reducing consumption can assist in weight loss. Following bariatric surgery, you will find that alcohol is absorbed into your blood stream much more rapidly, you may feel intoxicated much quicker as there is less food to absorb the alcohol in your stomach.
Gastric band surgery has been available for many years in different forms. Developments in band production have ensured that they have longevity.
What does laparoscopic mean?
Laparoscopic surgery, also known as minimally invasive surgery, is a technique that allows surgery to be performed without the long traditional incision (cut). By using multiple small incisions, each between 5- 15mm long, the surgeon inserts instruments including a tiny camera. The camera allows the surgeon to view the surgery on a screen and view the operating field more clearly?
Can the surgery be reversed?
Bariatric surgery is never carried out with the intention of reversing the procedure. Band removal is only carried out when clinically necessary. Patients must make a lifelong commitment to their band to help achieve a successful outcome.
How much will it cost?
The cost for this procedure is quite cheaper compared to the cost for the same in the US and UK. To know the exact charges for this surgery in India, fill up our free consultation form.
Can I choose my own hotels according to my budget?
You can most definitely choose hotels as per your convenience to you and your budget.
Can I speak with the doctor before I come to India for treatment?
You can talk to the doctor and satisfy all your medical queries. You can also send us your queries for answers from the top doctors.
What modes of payment are accepted for getting treatment in India?
We accept different methods of payment like, cash, plastic cash, via net banking, etc.
How will I get an Indian Medical Visa?
To know about the procedure of getting an Indian Medical Visa, please go to our website where you will find all the details regarding the initial procedure. You can also send us a query regarding the same.
I can only speak my native language?
Many hospitals in India have language translators to help you communicate better and effortlessly with the doctors and medical staff.
Tags
Affordable Gastric Band Surgery in India, Affordable Hospital for Gastric Band Surgery In India, Best Hospital for Gastric Band Surgery India, Best Hospitals Gastric Band Surgery in India, Best Place for Gastric Band Surgery India, Best Surgeons Gastric Band Surgery in India, Cost Benefits of Gastric Band Surgery in India, Gastric Band Gastric Band in India, Gastric Band Surgery Cost in India, Gastric Band Surgery Hospital in India, Gastric Band Surgery Price in India, Low Cost Gastric Band in India, Low Cost Gastric Band Surgery Low Cost Gastric Band Surgery in Ahmedabad, Nagpur, Pune, Gurgoan / Gurugram, Kolkata, Low Cost Gastric Band Surgery in Chandigarh, Jaipur, Noida, Kerala, Goa, Low Cost Gastric Band Surgery in India, Low Cost Gastric Band Surgery in New Delhi, Mumbai, Chennai, Bangalore, Hyderabad