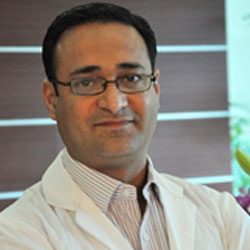 Cosmetic & Plastic Surgery
Contact Number: +91-9373055368
---
Designation:
Specialty: Cosmetic & Plastic Surgery
Location: Gurgaon
Nationality: Indian
Languages spoken: Hindi,English
Gender: Male
Artemis Hospitals
"My practice mission is to provide high quality, competent plastic surgery in a warm compassionate setting. Communication between physician and patient is most important."
With this motto, Dr Manik Sharma has emerged as one of the leading Plastic surgeons of Delhi-NCR. In his practice he strives to offer the best plastic surgery services available to patients. His attention to detail and excellent customer service are second to none and clients will always feel that you they are treated with respect and utmost care.
Dr Manik Sharma, M.B.B.S., M.S., M.Ch is a board certified Plastic surgeon practicing in Gurgaon. After completing his postgraduate studies, he secured the first rank to enter the prestigious PGIMER, Chandigarh. During his tenure he got immense training in reconstructive and burn surgery. Thereafter he pursued his interests to gain enormous experience in the field of Body contouring, Liposuction and hair transplantation. Dr Manik has special interest in the field of craniofacial surgery and he has successfully treated hundreds of cases of craniofacial malformations and trauma.
His paper on Tendon Repairs won the best paper award at the NZAPSICON, 2010. He has also served the community from time to time and has participated in many charitable camps organized by the Rotary international in various tribal across the country.
Dr. Sharma's philosophy is to provide excellence in cosmetic surgery and help in guiding an individual to recapture what has been lost in time; in essence, to help you look as young as you feel. We are living longer and our working life is extending into what used to be our retirement. It is not unusual to have several careers or jobs in our lifetime. Youthful appearance is an asset. The philosophy that Dr. Sharma espouses is one that combines a healthy mental outlook to the natural aging process, a healthy approach to living, and the realities of modern life.
MEMBERSHIP
Association of Plastic Surgeons of India
Medical Council of India
Indian Association of Aesthetic Plastic Surgeons
Indian Medical Association
PROCEDURES
Well versed in independently performing the following surgeries:
1. Aesthetic surgery especially body contouring, liposuction, abdominoplasty, facial plastic surgery, fat grafting and all breast surgeries
2. FUE/FUT hair transplants.
3. Breast and body reconstructions.
4. Microvasular reconstructions with free flaps.
5. Hand – All tendon, nerve & vascular reconstructions or repair. Congenital hand anomalies.
6. Lower limb- All reconstructions including micro vascular.
7. Head & neck- congenital anomalies (Clefts), traumatic and oncological reconstructions.
8 . Burn reconstruction and rehabilitation.
9. Craniomaxillofacial surgery for trauma and congenital anomalies.
OTHER ACHIEVEMENTS
1. Gold Medal in various subjects in medical school.
2. Received several prizes in Painting and drawing competitions.
3. Worked in Free Plastic surgery camps Charitable camps with Rotary International in various tribal area.
departments
: Cosmetic and Obesity
positions
: Cosmetic & Plastic Surgery